We Are Licensed And Insured
Aim For Excellence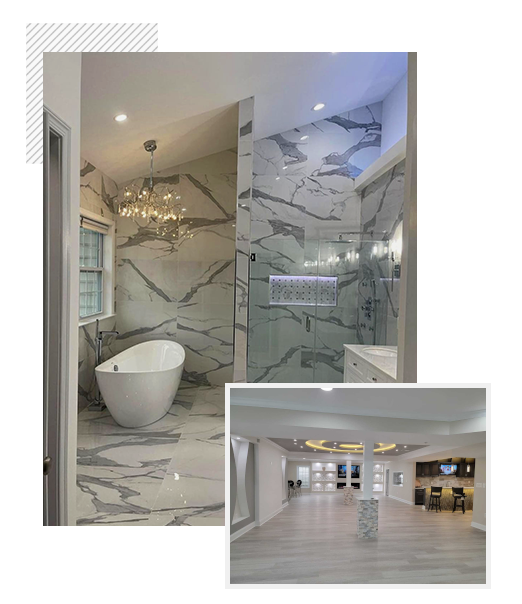 15 Years Of Experience
Create The House

Of Your Dreams

Remodeling & Design LLC offers you a wide range of services of the highest quality to bring your dream house to life. Our skilled team uses the most innovative techniques and tools to achieve maximum results. With our creativity and attention to detail, we guarantee to make the most out of your property. With us, the sky's the limit.

With almost two decades of experience in the industry, our team can deliver the best remodeling and design services in the area. Our experience has allowed us to improve our methods, seeing what works and what doesn't to guarantee we exceed our customers' expectations. You can expect unique approaches and solutions to your needs when working with us at the most competitive prices.
Serving Bowie, MD and Surrounding Areas
We are proud to provide Bowie and 50 miles radius, reliable and professional home improvement services. If you have been thinking about changing the look of your surroundings, Remodeling & Design LLC has you covered. Having a place you can call home, where you can relax and rest peacefully after a busy day, where you can invite your loved ones to have a good time, is a necessity in life. We are at your service to bring your visions to life and create a beautiful space representing your style.
Our Mission
Our mission is to provide customers in Bowie and surrounding areas with top-tier remodeling and design services they can count on. We aim to build a legacy of excellence, always providing the highest quality. 
Why Choose Us?
At Remodeling & Design LLC, we are committed to delivering personalized attention. Our team will work with you from start to finish to provide solutions for your individualized needs.
Our Vision
Our vision is to become Bowie's leading home improvement company. We strive to be widely recognized for our quality services and commitment to our customers' satisfaction, comfort, and safety.
Diversified Services. Unvarying Quality
Always Dedicated

and Devoted

At Remodeling & Design LLC, we are committed to going above and beyond to satisfy your needs, delivering results that make you glad of choosing us. Whether you want to upgrade your kitchen and bathroom, build a custom bar to host a party, or transform your patio into an outdoor oasis, our team is ready to make it happen. You can count on us to work with you from concept to creation, always prioritizing your wishes.

Choosing the right company to assist you throughout a remodeling and design project can be a stressful task. It is essential to select a team that provides you confidence and comfort. At Remodeling & Design LLC, we have everything it takes to give you an exceptional experience. We guarantee that we will give you the security to relax and enjoy the process while our experts get the job done!